ConservatoryPainting.co.uk is a nationwide company that specialises in the repair, restoration, refurbishment, repainting and maintenance of hardwood conservatories. For the past 15 years, we have travelled throughout the UK painting many top conservatory brands such as Amdega, Hampton and David Salisbury conservatories, plus many others.
We have many delighted customers as we believe the job is only complete when the customer is completely satisfied. We offer a very discreet and confidential service and have references available upon request.
As of 2015, we also build our own bespoke, hardwood conservatories. For more information, see our sister site ImperialHomeConservatories.co.uk
Professional Cleaning &
Maintenance of


Your Hardwood Amdega
Conservatory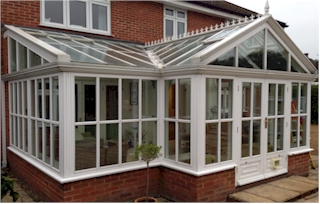 This page explains the processes we use to clean your Amdega timber conservatory, orangery, pool house, summer house or garden room.

The works schedule for a painted conservatory:
1. Cleaning the exterior using only the highest quality cleaning solutions available, we will start at the highest point of your timber conservatory with the finials or cresting and work our way down the roof, cleaning all the woodwork, glass and silicone seals.
2. The polishing of the roof glass can now be done before removing the guttering to be cleaned and then replaced and resealed.
3. We then continue cleaning down the walls, gable ends and doors etc., completing the exterior cleaning process.

4. To clean the interior of your timber conservatory, we will follow the same process as cleaning the exterior.

For a free no-obligation quotation, give us a call or send us an email and one of our team will call at your convenience.
Click here for FREE advice!